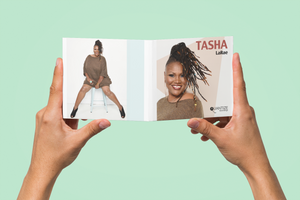 Tasha Album CD
Regular price $10.00 Sale
Tasha CD
'Tasha' is 53 minutes of uplifting musical fun! This 13 track, soulful house dance record is sure to make whatever task you're working on easier to complete.
This full length LP features music produced by various DJs/Producers from around the world including: DJ Spen (Baltimore), DJ Kemit (Atlanta), Jay Kutz (Jersey City), Soulful Edge (UK), Beat Rivals (London), John Khan & Earl Tutu (UK), Master Mello (South Africa), Rhemi (UK), Opolopo (Sweden), Sebb Junior (Spain), Jihad Muhammad (New Jersey), and Randy Walker (Maryland).
Special guest appearances by Speech of Arrested Development & LaShonda Schofield.
I sincerely hope that my latest musical offering will keep you grooving as you work to achieve your goals and accomplish your dreams.